With the concept of "light decoration and heavy decoration", this greener and more environmentally friendly decoration concept is deeply rooted in people's minds. Today, home furnishings are enriched and colorful, with emphasis on home taste and quality life. At the 18th China (Shenzhen) International Toys and Gifts Fair, which will be held on October 21st, nearly 3,000 gift companies will gather in the Shenzhen Convention and Exhibition Center to display colorful and colorful home accessories.
The integration of the concept of home furnishing allows the home accessories to change from the former single type to the current diversification. From the material point of view, there are cloth, glass, ceramics, resin, iron, etc.; there are murals from the use. Candlesticks, lamps, dolls, etc.
The home furnishing product representative textile home textiles products have stronger market adaptability compared with other gifts. After being gifted, they are quickly subdivided by a single variety and developed a series of gifts based on towels, beds, kitchens, curtains and arts. Innovation is far ahead of traditional home textiles. In recent years, new marriages and new homes are particularly popular.
Resin crafts ornaments are common types of home crafts. Its high quality and low price are deeply loved by consumers. The resin crafts are based on resin as the main raw material, through the mold casting, made a variety of beautiful and realistic images of people, animals, birds, landscapes, etc., and can be made into a variety of simulation effects. Such as: imitation copper, imitation gold, imitation silver, crystal, imitation agate, imitation marble, imitation marble, imitation mahogany and other resin crafts.
In recent years, the ancient iron art has been marked with new content and life, from traditional architecture, garden decoration, to interior decoration, furniture decoration and environmental decoration, and has become a new force for home decoration. Colorful wrought iron compartments, wrought iron watches, vintage iron ornaments, romantic European jewelry boxes, wrought iron gardening products, etc. will be presented at the Shenzhen Gift Show, taste simple and romantic and a variety of personalized iron arts and crafts.
In this exhibition, Chinese Red Porcelain, Porcelain, Live Porcelain, Expo Porcelain, Lacquer Carving, Yunjin, Jade, and scroll paintings and paintings will fully display the essence of traditional Chinese culture. Museum collection. Senior collectors remind that collections can be large without having to choose only antiques. Choosing modern handicrafts with potential for promotion is also a good choice. Perhaps the handicrafts used for home decoration today will increase sharply in value tomorrow.
During the more than 30 years of China's reform and opening up, handicrafts, textiles, collectibles, lamps, flowers, plants, etc. have been developed separately. With the improvement of the standard of living of the people, the demand for the overall home culture is growing. The great integration of the home industry is a foregone conclusion. A single household product can no longer meet the demand of the overall "overall home environment". The "big home" with a unified style and a combination of decorative and functional features is more sought after by consumers.
In addition to understanding the charm of cross-border furniture, the organizers also prepared a number of activities during the show, such as the presentation of gift trends, TOP100 industry selection, etc. In addition, the Pearl River Delta also prepared a free express train, pre-registration audience can be on-site Receive free bus and subway ticket vouchers, and strive to get a full load of 120,000 people from all walks of life.
Stainless Steel Ring :
316L stainless steel : Modern , Fashion , Traditional designs ,Sturdy and durable ,Cheaper than gold rings;
Main Products : Stainless Steel Wedding Rings, Stainless Steel Skull Rings, Stainless Steel Engagement Ring, Stainless Steel Ring for Men and so on
Steel Ring Width &Thickness :Our Steel Ring Available in any specifications
Our Steel Ring can With or without stones ; 6A Hearts & Arrows glistening CZ (available in diamonds and other precious stones );
Setting Our Steel Ring Available in any setting method , prong setting , channel setting, tension setting ,bezel setting , pave setting etc , fine and secure setting craft.
Steel Ring Sizes Our Steel Ring Available in 4#-14#
Steel Ring Tolerance : ±0.05mm , Our Steel Ring even can make the tolerance within ±0.02mm ;
Steel Ring Craftwork Features : Excellence workmanship and design, perfect and comfort ring !

1) Our rings are completely made by experienced jewelry makers (only except for the process of material cutting and pattern engraving) . We use custom manual lathe table , this jewelry ring tool was invented by ourselves. It can make perfect rings with perfect radius . Inner convex & mirror-polished surface, comfort-fit , Ventilating , non-injured hand! Each of our ring will fit your finger comfortable and perfect.
2) Skillful polishing workers to ensure the perfect surface treatment . Zero scratch on surface or stones. Able to make any finish : Polished Finish, Brushed Finish , Satin Finish, Hammered Finish, Emery finish etc
3) Senior diamond setting masters to set the stones, fine and secure setting . Never fix the stones by glue.
Steel Ring Surface : Our Steel Ring available in all finish , brushing finish, satin finish ,high polishing, hammered finish , emery finish etc
Steel Ring Plating : Our Steel Ring Available in white gold, yellow gold ,rose gold etc ; Durable and reliable Plating
OEM/ODM Service :Capable of manufacturing any jewelry & Rings according to your counter-samples, CAD designs, sketches etc
MOQ : Normally , 100pcs /size/model ; But it's Flexible : Price depends on quantity ; Larger quantity, More discount ! Sample order/trial order acceptable ! Will quote you the best price based on your specific inquiry.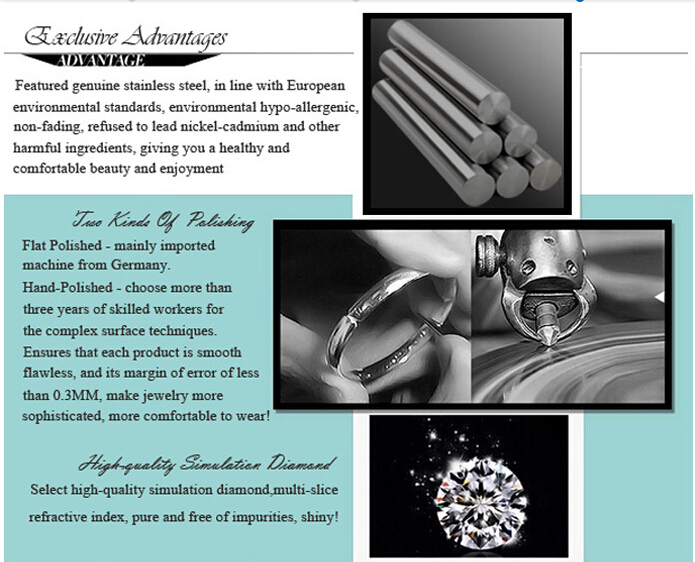 Stainless Steel Ring
Stainless Steel Wedding Rings, Stainless Steel Skull Rings, Stainless Steel Engagement Ring, Stainless Steel Ring for Men
Yiwu Beichong Jewelry Factory , http://www.bsujewelry.com