1: Flame-retardant wire is a product produced in response to market demand. With the development of industrialization, the demand of the people is getting higher and higher. Flame-retardant polyester yarns have come into being on this basis, and the market is doing flame-retardant. The products are generally divided into two types, one is the flame retardant effect obtained by adding a flame retardant after treatment, the other is produced using a flame retardant material, wherein the latter is heavy, because the latter is a permanent flame retardant, and In the case of adding toner, it can be made of environmentally-friendly flame-retardant wire, which is also a trend in the development of the entire market.
The polyester flame-retardant yarn and colored polyester flame-retardant yarn produced by Jinxia Chemical Fiber Co., Ltd. are made of the best flame-retardant materials and the use of liquid coloring and direct spinning using a new process. It has a permanent flame-retardant effect and is resistant to The number of washings, physical folds, and good flame-retardant effect after finishing ironing, and passed the GB/T 5455-1997 textile combustion performance test. Fire-retardant filaments are widely used in decorative fabrics and carpets for automobiles, airplanes, ships, hotels, as well as military products, fire-fighting products, labor protection, and apparel fabrics. At present, it has been used by many carpet manufacturers in Tianjin to make carpets exported to European countries. The Japanese market is also widely used to make blanket products.
50D
75D
100D
150D
300D
500D
600D
24F
24F , 36F
24F , 36F
36F , 48F
72F , 96F
144F , 192F
144F , 192F
2: Colored low stretch yarn, commonly known as stretch textured yarn, is made by MOY (low speed) or POY (high speed) stretched and elasticized. It has certain elasticity and soft handfeel. In addition, as people's lives increase, awareness of environmental protection gradually increases, and dyeing is high in energy consumption and pollution. Therefore, colored silk came into being, and dyeing has the advantages of environmental protection, low price, strong selectivity, and no color difference. The color can be tailored to the customer's requirements. The main specifications of Jinxia Chemical Fiber Co., Ltd. are 50D, 75D, 100D, 150D, 300D, 500D, 600D. Other specifications can be customized.
50D
75D
100D
150D
300D
500D
600D
24F
24F , 36F
24F , 36F
36F , 48F
72F , 96F
144F , 192F
144F , 192F
3: polyester monofilament, the general polyester monofilament specifications in the market are 15D, 20D, 25D, 30D. The cross-sectional shape is generally triangular shaped, round holes, three-leaf shaped, etc. According to the National Twelfth Five-Year Plan, the monofilament standard was also established in 2011, and the specific implementation was implemented in 2012. The main drafting and formulation of colored polyester draft monofilaments. With various colors, Jinxia Chemical Fiber Co., Ltd. can also customize according to customer requirements. Specific specifications are as follows, special specifications can be customized
15D
20D
25D
30D
40D
50D
60D
1F
1F
1F
1F
1F , 2F
1F , 2F
1F , 2F , 3F
4: Imitation nylon silk (Super Brocade fiber) is a kind of colored imitation nylon ribbon special silk, soft texture, bright gloss, feel good, strong anti-aging, inherited the advantages of nylon soft, but also in the gloss of nylon products , This product is a color spinning product, uniform coloring, no dyeing, no fading, is an environmentally friendly product, reaching European export standards. There are black, red, royal blue, purple, orange and other colors, can also be tailored to customer orders, can produce 50D ~ 600D and other specifications, including 50D, 100D, 150D, 210D, 300D, 390D, 420D, 500D, 600D , 840D, 1000D, etc. are commonly used specifications for customers, many domestic large-scale webbing and manufacturing companies are using it, and have been widely used in pet webbing, luggage belts, sports equipment, rope making and other fields.
50D
75D
100D
150D
300D
500D
600D
24F
24F , 36F
24F , 36F
36F , 48F
72F , 96F
144F , 192F
144F , 192F
Oven Crispy Basket/Tray is made of Food-grade PTFE, reinforced by Strong Teflon Material, which is a brand-new product for Non-stick and Crispy solution, would keep your food always crispy.
This basket could apply to Oven or BBQ, help you lift and turnover the food easily!
And this Crispy basket is FDA & LFGB & CA65 Certificated, our factory is BSCI Audited also!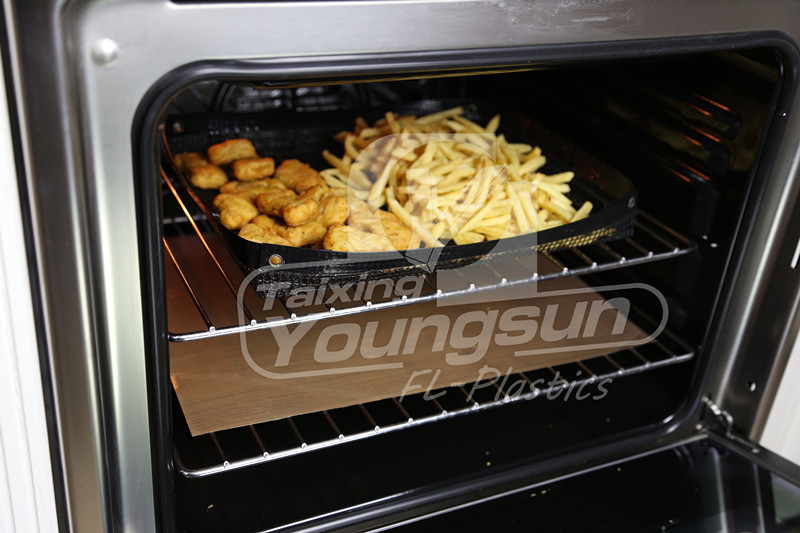 Oven Crispy Basket/Tray
Oven Crispy Basket,Oven Crispy Tray,Pizza Mesh Tray,Mesh Baking Tray,Non-stick Basket,Non-stick Oven Basket
Jiangsu Esone New Material Co,.Ltd , http://www.ptfe-fiberglass.com